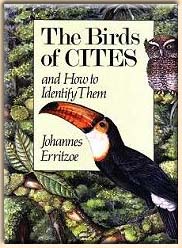 The Birds of CITES and How to Identify Them
by Johannes Erritzoe
Sponsored by Aage V Jensen Charity Foundation, Denmark

This book makes it possible to identify all the bird species which are listed by the Washington Convention. 77 colour and 10 black and white illustrations are painted by the author and Helga Boullet Erritzoe.
---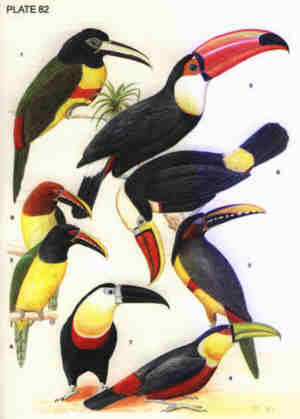 ---
About the book

At the beginning of the 1970. the big conservation organisations at last decided to do something against the disastrous decline of many animals and plants. The result was the start of a world-wide organisation, whose purpose was to control and reduce the trade in rare wild animals and plants.

This new organisation, called THE CONVENTION ON THE INTERNATIONAL TRADE IN ENDANGERED SPECIES, (CITES), was founded on 3 March 1973 in Washington, and 21 states signed their membership. The rules of the new organisation came into force on 1 July 1975 and until now more than 120 states have accepted memberships.

CITES lists all endangered species and regulates the conditions under which they can be exported and imported. Needless to say, the success of the whole system depends on the willingness of the member states to enforce the CITES regulations and take severe action against poachers and illegal traders. Before that can happen, they must be able to recognise the species listed in the Convention. Besides, the book is also an important tool for all involved in the regulations of CITES: Animal dealers, aviculturists, taxidermists etc.

This book is the first to provide the means to positively identify some of the 1,400 bird species that are at varying degrees of risk of global extinction and appear in the CITES lists.
---
Content
Introduction
Quick Guide to all bird families with a b/w drawing of a typical representative, the number of species, range and where in the book to find the listed species.
The topography of a bird
Glossary of all technical terms used in the book
Colour guide with 54 colours and their English names
87 tables with the text on the same opening
Reference list (432 references)
Appendix: Text of CITES
Dictionary with all words used in the species text translated to French, German and Spanish
Index
---
Description

This book is planned so that even readers with little or no experience of the English language can use it, because all colours, the topography of a bird, the glossary of technical terms, which are kept to a minimum, and the dictionary of all other words used in the species text (approx. 700 words) can guide the reader through the text. In this way the book can be a great help for all who understand French, German or Spanish and want to learn to read English bird-books.

The quick guide to all 158 bird families gives even to the layman the possibility to check very fast whether one or more members of a certain family are listed and if so, where to find the plate and text.

The purpose of the book is to allow quick identification of the listed birds, both alive in captivity, dead or stuffed. On the other hand the book is not an idenfication guide to wild birds, for which reason and for space saving no information about behaviour, habitat, vocalization or food is given.
Each species have the following sections:
Scientific name
Synonyms if any
English, French, German, Italian and Spanish name
Range
Description of male, female and young bird
Listet of list I, II, or III
Status
Scanned literature
---
Reviews

It will become an essential implementation tool for all involved in the rules of this organisation, and we wholeheartedly recommend THE BIRDS OF CITES
CITES Secretariat

I am confident that the information in this book will provide invaluable help for the officials directly involved, and other conservation professionals, in the task of implementing and enforcing the protective legislation.
I am sure that it will also be of great interest to bird-lovers of all nations.
I hope it will help them to appreciate the importance of CITES and encourage them to become actively involved in this critical sector in the battle for the conservation of nature.
H.R.H. Prince Philip, Duke of Edinborough

Beautifully illustrated. It will not only be invaluable to all those involved in combating the illegal trade in birds, but also to birdwatchers in general since it illustrated many of the world's most beautiful birds
Countryside

For anyone concerned with the Convention on International Trade in Endangered Species (CITES), who has not got easy access to a comprehensive ornithological library, this will be an essential work of reference.
British Ornithologists' Club

While CITES has published a black-and-white manual for animal identification purposes, fewer than half of the birds species have been illustrated. Now, thanks to this tour-de-force book this situation has been remedied. Most of the illustrations are truly fine. Great care has been taken to get the colours right. Clearly, this book will be a valuable tool for those involved in controlling international trade in birds at risk. But it will also appeal to readers who would like to see carefully detailed illustrations of some of the world's most beatiful, rare, and endangered species.
Nature Canada

The large format book is well laid out and features a very useful quick guide to bird families. The book is a very interesting read and should find wide acceptance among ornithologists and government and law enforcement agencies.
Australian Aviculture

Originally intended as a handbook for those, who need to enforce the convention, it is also a guide to the world's most vulnerable birds.
Forrest and Birds

A collector's item for all bird-lovers and ornithologists.
Acta Ornithologica

An essential tool for all those involved in controlling the trade in wild birds. The colour plates are attractive and of more then adequate standard and quality to enable ready identification by non-ornithologists, and the text for each species is rightly concise.
Birding World

The overall quality of the illustrations is very good. Anyone interested in the conservation of the world's endangered species will find this practical book of interest, and it should certainly be recommended for local and university libraries.
South Dakota Bird Notes
---
Publication details

Specifications: 224 pp, 77 color- og 10 b/w illustrations. 297 x 210 mm
Publication: November 1993
ISBN Hardbacks 0 7188 2894 1
ISBN Ringbound 0 7188 2892 5
ISBN Leaderbound 0 7188 2895X
Where to order:

NHBS Mail Bookstore, 2-3 Wills Road, Totnes, Devon TQ9 5XN, England
Tel.: +44 18 03 86 59 13, Fax: +44 18 03 86 52 80,
E-mail: nhbs@nhbs.co.uk

Catalogue Number:
ringbound 28826M Price £ 25.00 + postage £ 5.00
hardback 28771M Price £ 37.50 + postage £ 6.50