Working Bibliography of Cuckoos and Turacos of the World
af Johannes Erritzoe med bidrag af Oscar van Rootselaar
Udgivet med støtte fra Forskningsministeriet.
---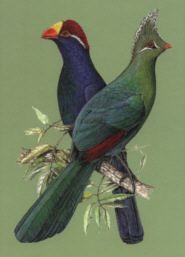 ---
Om bogen

Der er 40 slægter of 140 arter af gøge, ifølge Howard and Moore. Det er en kosmopolitisk familie der bebor alle dele af verden undtagen arktiske områder, det aller sydligste af Sydamerika og Sahara. Gøgene er kendte for at mange arter lægger deres æg i andre fugles reder, hvilket har bevirket, at det er en af de fuglefamilier som forskerne især har kastet deres bevågenhed over.

Der er 6 slægter og 20 arter turakoer ifølge Howard and Moore. De findes alle i Afrika syd for Sahara. De fleste arter er meget farvestrålende.

Denne bibliografi bringer 5.634 referencer + omkring 100 sidste øjeblik titler, som alle har fået et bogstav efter de fortløbende numrer. Bibliografien har ikke medtaget populære artikler.

Denne kommenterede bibliografi bryder med traditionen på flere måder:

Det er den første fugle bibliografi som både er udgivet i bogform og samtidig har en CD ROM indlagt på bogens bagomslag. Med denne er det muligt lynhurtigt at søge alt man ønsker.

Foruden selve bibliografien er der flere supplerende værktøjer:

En liste over omkring 550 engelske gøge og turako navne og deres forskellige videnskabelige navne. Kildeangivelse følger hver enkelt.

Der er et arts- og geografisk index for alle der ikke har adgang til en computer. I det geografiske index er samtlige lande i hele verden medtaget, også dem der mangler referencer. Dette er gjort for at kaste lys over, hvor vores viden er svag eller helt blank. Alle disse hvide pletter på landkortet er forsynet med en reference, i hvilken i det mindste noget om gøge eller turakoer er nævnt.

Desforuden er der givet en alfabetisk liste over nøgleord som der kan søges på ved hjælp af CD ROM.

Og endelig er alle de brugte kilder: bøger, artikler, tidskrifter og bibliografier, som har været benyttet gengivet

Addenda
---
Bogens Plan
Acknowledgements p. 7
Introduction pp. 9-12
Scanned books, papers and bibliographies pp. 12-14
Species index pp. 15-29
Geographical index pp. 29-50
Keywords pp. 50-51
Cuckoo and turacos English names pp. 52-65
Cuculiformes Bibliography pp. 66-401
CD ROM with Acrobat Reader
---
Anmeldelser

This bibliography of over 5600 entries covers the 40 genera (140 species) of Cuckoos and the six genera (20 species) of Turacos and will be welcomed by those studying these species. Species, country or keywords are added to entries where the title is not sufficiently explicit. A list of vernacular names with their current scientific equivalents according to Howard and Moore is included along with species and geographical indices, a list of key words and literature consulted. In addition the CD ROM enables easier extraction of information.
Ibis 143 (1) 2001: 163

Die Literatur über Kuckucke und Turacos ist sehr umfangreich, und so war es für den Autor keine leichte Aufgabe, eine solche Bibliographie zusammenzustellen. Zusammengetragen hat er über 5700 Literaturstellen, die über einen Artindex und einen geographischen Index zugänglich sind. Auf der CD ROM ist diese Bibliographie als *.pdf-file nutzbar.
Journal für Ornithologie 142 (1) 2001: 106.

This book provides a list of references on cuckoos and turacos numbered and ordered by author's name and year of publication. The list is also provided on a CD-ROM to facilitate searches. The electronic reference list is accessed through Adobe Acrobat, which is available free on the Internet. Some references, primarily those for which the title is not sufficiently informative as to subject matter, are accompanied by comments, such as the name of the studied species, geographical region concerned, and key words. This information is very useful for defining the scope of searches using the CD-ROM…Finally, when only references published before 1996 were included in the comparison [from the reviewer's own database and diverse publications], only one reference was not found in the book (99.6%, n = 225)…. However, it can also be said that based on the comparisons presented here, most of the references on cuckoos and turacos are included in this book. Although some references, largely those from the most recent years, could not be included, this book is potentially a good tool for students and researchers looking for literature on these families, especially for finding references published in journals not included in general reference databases such as Current Contents, Biopsis, and ISI.
The Condor 103 (1) 2001.
---
Bogens specifikationer og hvor den kan bestilles:

Specifikationer: 401 sider, 255 x 173 mm, indbundet med en CD ROM i lomme.
Udgivelses dato: April 2000

Udgivet på eget forlag.
ISBN 87-987835-0-5

Bogen kan bestilles hos forfatteren eller hos
NHBS Mailorder Bookstore,
2-3 Wills Road,
Totnes,
Devon TQ9 5XN,
UK
Tel.: +44 18 03 86 59 13, Fax: + 44 18 03 86 52 80,
E-mail: nhbs@nhbs.co.uk
Pris: Dkr. 500.- + porto